产品分类
当前位置:首页 > 工量具 & 无尘静电 > 定制
产品中心
HPPB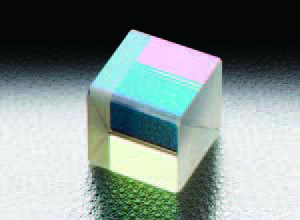 •
High Power Polarizing Beamsplitters has more laser durability compared to our standard Polarizing
Beamsplitters (PBS). Polarizing beamsplitters consist of two right angle prisms.
•
One of them is coated with dielectric multi-layer polarizing coating on the hypotenuse face.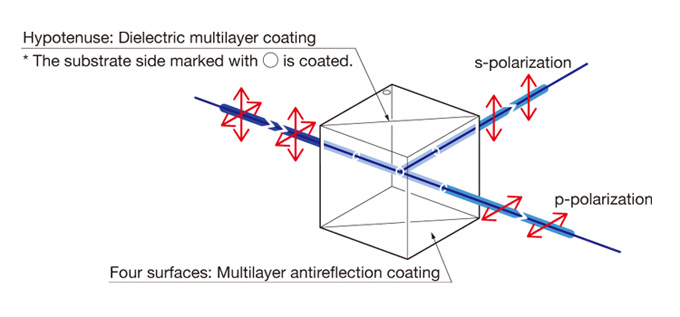 Specifications

Material

BK7, Synthetic fused silica

Surface flatness of substrate

λ/4

Angular deviation of transmitted beam

<10′

Coating

Hypotenuse Surface: Dielectric multi-layer polarizing coating
Four Surfaces: Narrowband multi-layer anti-reflection coating

Incident angle

0°

transmittance of P polarized light

>97%

Extinction ratio of transmission

Ts : Tp = 1 : 200

Surface Quality (Scratch−Dig)

20−10

Clear aperture

Circle inscribed in a square of 85% of the
dimensions

▶Input beam from the prism on the side indicated by ○. When the light is incident from the side of the prism without mark, there is a possibility that the characteristics of the transmittance and extinction ratio changes.
▶The surface flatness is the reflected wave front distortion of the surface before coating.
▶Be sure to wear laser safety goggles when checking optical path and adjusting optical axis.

Part Number

Wavelength Range
[nm]

A=B=C
[mm]

Material

transmittance of Spolarized light
[%]

Laser Damage Threshold*
[J/cm2]

HPPB-10-3550
355
10
Synthetic fused silica
>97
2

HPPB-15-3550
355
15
Synthetic fused silica
>97
2

HPPB-20-3550
355
20
Synthetic fused silica
>97
2

HPPB-10-5320
532
10
BK7
>98
5

HPPB-15-5320
532
15
BK7
>98
5

HPPB-20-5320
532
20
BK7
>98
5

HPPB-10-10640
1064
10
BK7
>98
7

HPPB-15-10640
1064
15
BK7
>98
7

HPPB-20-10640
1064
20
BK7
>98
7